About Dr. Fechner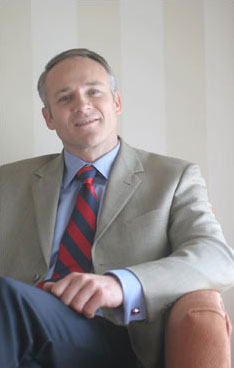 As a double board-certified Facial Plastic Surgeon, Dr. Frank Fechner's commitment to aesthetic medicine is represented in his exclusive focus on facial cosmetic procedures. Dr. Fechner knows that for reliable natural appearing results, a keen understanding of normal aesthetics must guide the delicate hair restoration procedure. Combining a continuing academic dedication with his artistic touch allows Dr. Fechner to provide state-of-the-art hair treatment for his patients.
Born and raised in Berlin, Germany, Dr. Fechner won a competitive scholarship from the University of Massachusetts Medical School in Worcester. After medical school, Dr. Fechner went through surgical training at Massachusetts General Hospital (MGH) in Boston before completing a four-year Harvard residency at the Massachusetts Eye & Ear Infirmary, also located in Boston. While rotating through Harvard's teaching hospitals (Brigham and Women's Hospital, Beth Israel Deaconess Medical Center, Dana-Farber Cancer Institute and Children's Hospital Boston) he focused exclusively on the meticulous surgery demanded by the face and neck region. Aside from cosmetic surgery, complex reconstructive procedures commonly involved the scalp and forehead, an experience he finds invaluable for understanding aesthetic hair restoration. This experience allowed Dr. Fechner to find his passion in facial plastic surgery and therefore, he furthered his experience through a fellowship sponsored by the American Academy of Facial Plastic and Reconstructive Surgery in Manhattan. While at New York University Medical Center and Columbia/Cornell in New York City he worked with internationally renowned facial cosmetic surgeons and dermatologists. Aside from an ample cosmetic experience, Dr. Fechner himself performed a large number of major plastic facial surgeries including reconstructions for trauma victims at Manhattan's Bellevue Hospital Center, one of the nation's busiest trauma centers.
Dr. Fechner is board certified by the American Board of Facial Plastic and Reconstructive Surgery (ABFPRS). Because academic commitment continues to be one of his passions, Dr. Fechner holds teaching appointments at Harvard Medical School and University of Massachusetts Medical School. He was asked to present his research and clinical experience at conferences both nationally and internationally.

Book your hair restoration appointment today.